Curtain Call, Inc.
Click Here to Get More Info
1349 Newfield Ave.
Stamford, CT
Administration: 203-329-8207
Box Office: 203-461-6358

203-329-8207 x16
For over twenty-five years, Curtain Call has provided educational workshops for ages five through adult after school, evenings and weekends in stage acting, TV and film, improv, musical theatre, Shakespeare, Broadway tap and more! Our faculty consists of area professionals dedicated to arts in the community. We can also create a workshop for your before or after school program, business or civic group. SPRING CLASSES BEGIN APRIL 17, 2017. EARLY REGISTRATION DISCOUNT OF 10% OFF THRU APRIL 1, 2017. For more information, contact brian@curtaincallinc.com or call 203-329-8207 x16.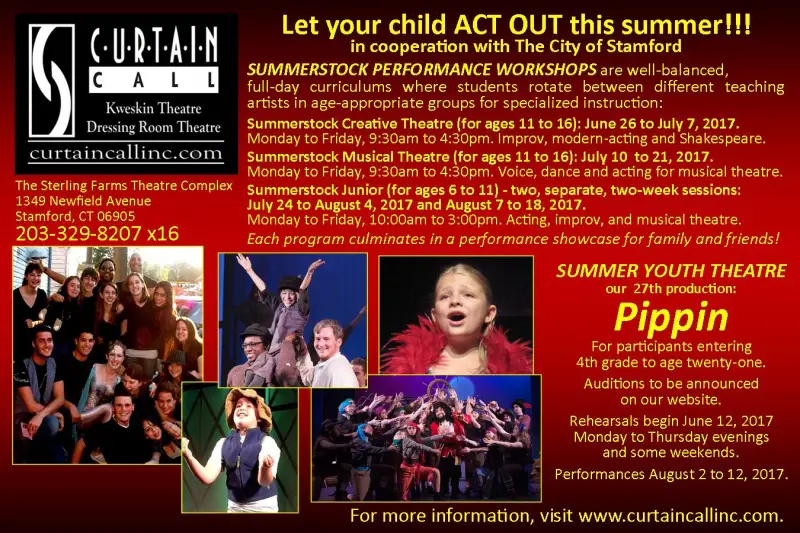 BACK TO SCHOOL
Curtain Call, Inc. is Stamford's longest-running, non-profit theatre, providing year-round, live performances and theatre arts classes. Ages five through adult can enjoy after-school, evening, and weekend workshops in acting for the stage, TV and film, comedy, improv, musical theatre, Broadway tap, and Shakespeare. Full-day vacation programs are offered for ages 6-16. Our teaching artists provide a nurturing, creative environment for students of diverse experience and backgrounds. We can also design a workshop for your before- or after-school program, business, or civic group. Call 203-329-8207x16 or visit curtaincallinc.com. "Where 'acting out' is encouraged!"
Meet the Director

Curtain Call is the nonprofit theatrical production company in residence at The Sterling Farms Theatre Complex, providing year-round performances and educational programs. Summer is a time for kids, to "act out" and what better way than in Curtain Call's Summerstock Workshop programs, full-day curriculums for ages 6-16 and Summer Youth Theatre for ages 10-21. Our professional facilities and experienced faculty provide the perfect environment for kids to "act out" this summer!
Interested in learning more about this business
Submit your contact information to get more info from the business above.
Get NY MetroParents via Email